NWCC Web Site Tour
Northwest Construction Control is a leader in online inspection services. Our online systems offer a wide range of tools to help make your loan inspection process smooth and efficient. We offer online access to hard copy inspection reports as well as our completely interactive online draw reports system. Our services are tailored for individual clients in order to better serve them.
The NWCC Online Inspection Report System Overview
The NWCC Online Inspection Report System gives loan processors a variety of easy tools to help track loan inspections:
Online storage and access for inspection reports;
Online storage and access for inspection photos;
Individual or batch printing of reports;
Request additional inspections online;
Online Confirmation Letters;
Automatic e-mail notification for completed inspections;
Ability to mark inspection line items for special attention;
Ability to make electronic notes on inspection reports for easy communication with NWCC staff;
Password-protected secure server for inspection reports.
Working with NWCC Online
Communications
Once an account is set up with NWCC and initial loan inspection information is created, you will be given a login and password to access your custom client web site. The client home page will list the various options open to your account type and will give you access to our secure messaging system.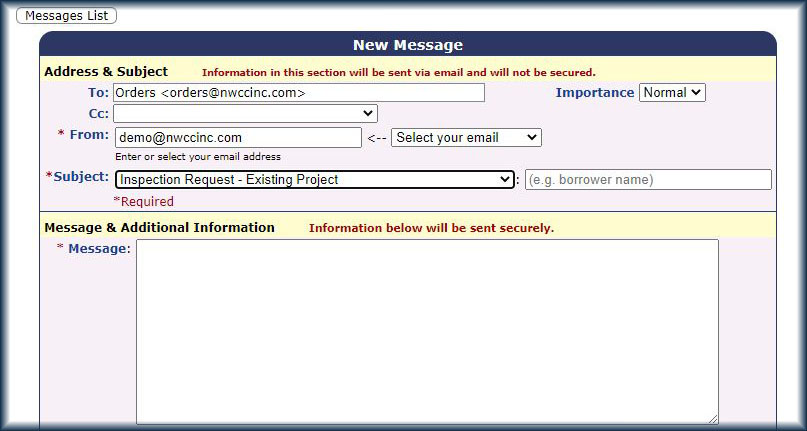 ---
Fast Project Search
NWCC website as a fast search system which allows you to quickly find projects, loans and inspection results just by entering a loan number, borrower or address.
---
Project/Inspection Index
The backbone of the online system is the project index. Is a list of the loans for your institution. The project index is a searchable list of your projects and inspections. You can access inspection results and other project information as well as order new inspections directly from this list.
The index of projects can be searched or sorted by loan number, borrower, date or location.
---
Inspection Report
Our on-line inspection reports includes most recent report which can easily be downloaded in PDF format plus many other format options. The report includes inspection photos, associated files, various other reports and formats such a complete draw history and any narrative reports and reviews.
---
Other Features
Batch Print - This feature allows you to print hard copy compilations of your inspections.
Monthly Confirmation Letters - The confirmation letter confirms which projects will be inspected as part of the first of the month inspections.
Subdivision list - This is a list of your subdivisions and the lots in each subdivision. From these list you can easily add lots and order multiple lots at the same time.
Invoices - An easy to access list of your NWCC invoices.